ROOTS AND FRUITS CAFE
social media content creation
ROLE
Content Creation, Photography, Social Media
TOOLS
Canon DSLR, Adobe Photoshop, Instagram
CAMPAIGN INSIGHTS
Around 1,000 people reached organically and 675 likes across multiple posts
Roots and Fruits Cafe is a local cold pressed juice bar and organic plant based cafe. Their goal is to make tasty and healthy food more accessible. Since they're relatively new, they reached out looking for help to grow their social media presence. I took photos of their menu items for social media content and I also created some Instagram posts of my own on Guacarons to share with my audience to spread the awareness.
APPROACH
The main goal of this social media campaign was to balance creative content creation with online engagement, while staying true to Roots and Fruit's brand of an easy-going perspective and simple, yet bold aesthetics.
I took photos of the Roots and Fruits menu items in-store because their space fully represents brand. Their rustic elements situated in the bright white space really made all of the colourful dishes pop in the photos. Since there was a lot of natural lighting in the space, I was able to take some flatlays of the dishes in addition to high angle shots.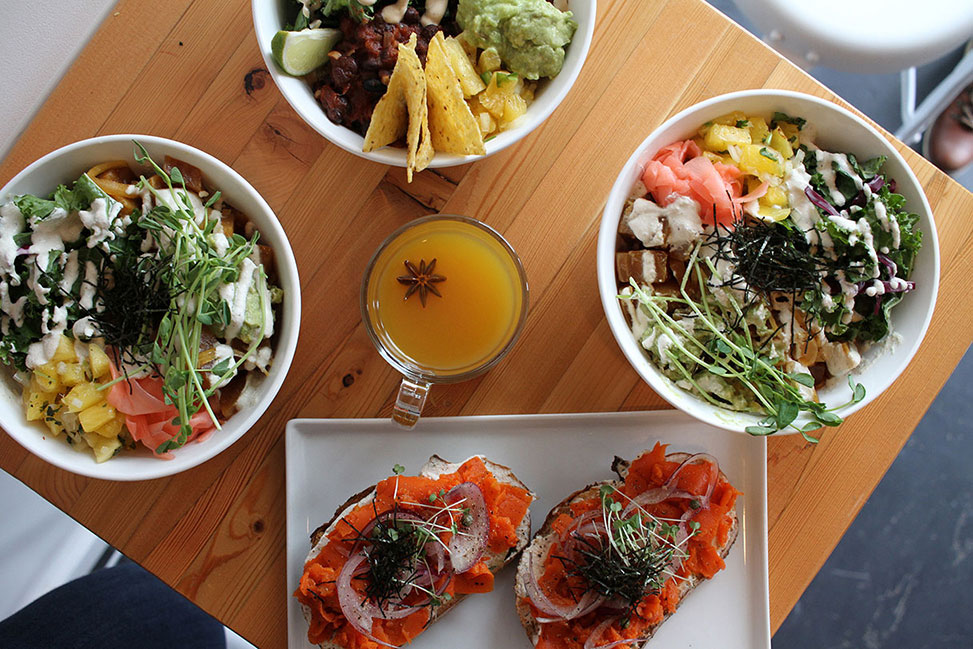 Flat Lay Image Before Editing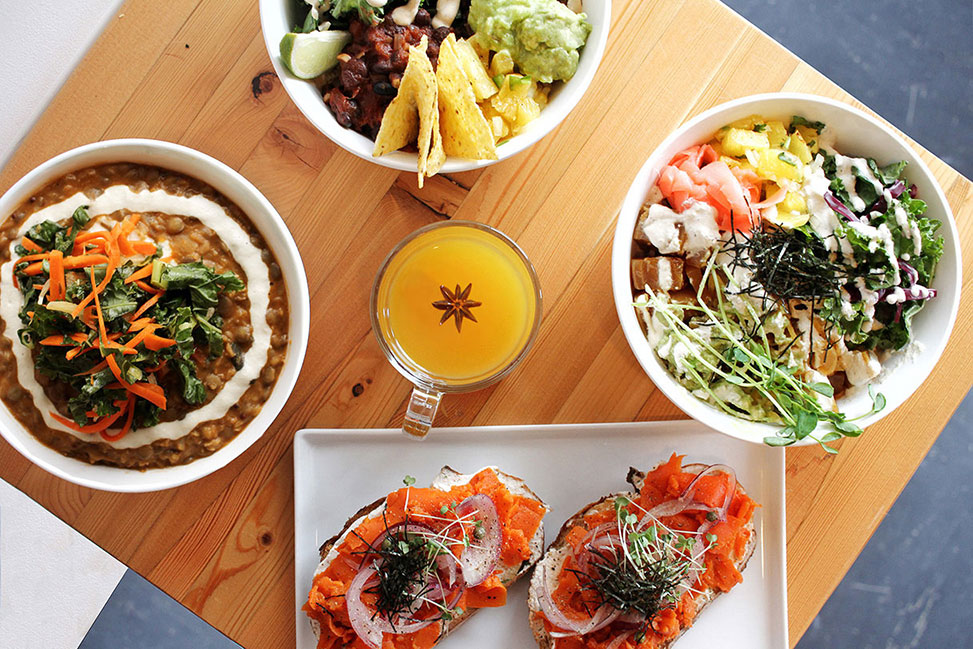 Flat Lay Image After Editing
EDITING
Most of the photos didn't require much editing because of the amount of natural light in the cafe. However, one of my favourite shots that featured their different dishes actually had two of the same bowls. In order to show more of their dishes, I had to find another photo I took from the same angle, but of a different dish to replace one of the original ones. I also got rid of any distractions and fixed imperfections like a chair and shoe in the background, centering the star anise in the mug as well as brightened the food to make them stand out more.
FINAL RESULTS
In the end, the extra steps of editing paid off, the flatlay is one of the main photos that Roots and Fruits uses frequently to advertise on their social media pages. Additionally, the image of the bowl by the window is also another popular post they share as well, gaining around 200 likes and reaching 500 local users organically on Guacarons.
I felt that I did a good job in showcasing Roots and Fruits' menu items in the style of their aesthetics. The simple white backgrounds really contrasted with the pop of colours each dish had.